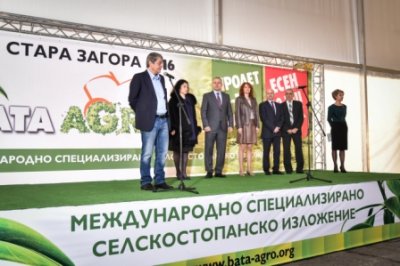 The 8th edition of the International Exhibition BATA AGRO 2016 – Spring was officially opened in Stara Zagora. The ceremony was attended by the Agriculture Minister Desislava Taneva and representatives of the municipal and regional government of Stara Zagora.
The organizers of the exhibition stressed that the exhibition has become one of the most prestigious in the country. The participating companies last year were 103, while in 2016 they are already 143 and the exhibition area is over 26 000 sq m. The exhibition also provides an attractive accompanying program with several seminars and discussions on some of the most important issues in sector – RDP.
The special guest of the opening Minister Taneva said that 2015 a very successful year. Approximately 6,600 farmers have applied for RDP measures last year with a total project value of 4 billion BGN. For 2016, 1,030 contracts have been registered to the total amount of BGN 230 million, she said. Minister Taneva said that in 2016 there are 32 acceptances, which are in changed conditions and will be opened with the remaining budgets of the RDP. The idea, she specified, is the means to reach out to more farmers. The Agriculture Minister also congratulated all the women in the sector who chose this difficult male profession by wishing them a successful year and succesfull cooperation with the Ministry of Agriculture.